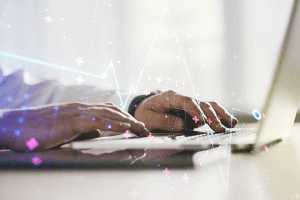 Key staff appointments and investment in new technologies have enabled Oberoi Consulting to give game-changing support to the NHS since lockdown.
The company which is renowned among GPs for its high-quality clinical audit and IT services can now offer its services remotely after it was granted access to the Health and Social Care Network (HSCN).
This HSCN connection will also allow sister company Oberoi Business Hub to handle GPs' inbound telephone calls and book GPs' appointments directly into their systems.
This is especially important for practices which have been hit by staff shortages during the Coronavirus crisis.
Service implementation manager Vivek Patel has been instrumental in leading the strategy around technology deployment working with key stakeholders both internally and externally.
Meanwhile, new North West Service Implementation Manager Paul Machin brought 24 years' experience of working in the NHS and secured the company's newest client - Viaduct Care.
Viaduct Care is owned by 37 GP practices in Stockport, Greater Manchester and its aim is to find innovative solutions to the challenges faced by the NHS while protecting the interests of general practice and ensuring patients receive the very best care.
Its Head of Operations, Amanda Carbery, said: "We don't have a dedicated IT person and we needed expertise to support us with the implementation of our own instance of EMIS and make the best use of our clinical systems to ensure their use was being optimised.
"We had a new system which needed to be implemented and required expertise. Paul has been pivotal in making that happen.
"If you think about stress and strains on the organisations during the Covid-19 crisis - mobilising staff to work from home, visiting Covid patients, organising PPE etc, we needed someone we could trust to make our systems work as effectively as possible."
Kavita Oberoi, owner of Oberoi Consulting, said: "We have moved forward in leaps and bounds this year, despite the Covid crisis.
"We have hired some superb staff and being hosted on the HSCN network has absolutely proved mission-critical because it means our field team can help GP practices more quickly and efficiently from home.
"Up until now, we have hired staff across the UK on the basis of geography. Now we can hire the very best people, regardless of where they live because of remote access.
"These advancements mean we will be able to scale and introduce new service offerings, bringing benefits to both our NHS and pharmaceutical clients going forward."